Instagram Follow Limit Updated October 2020
What are the following limits on Instagram?
PS: This post contains some information that you may want to come back to later on. Click the link below to read the updated following, liking, commenting and liking Instagram limits.
Unlike on Twitter where it's public knowledge that you can follow up to 1000 accounts per day, Instagram, for obvious reasons, does not publish the maximum number of people you can follow per day.
I've read complaints by many about certain features being disabled after following or 'unfollowing' a large number of people within a short span of time, while others have had their accounts banned.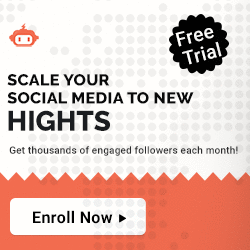 No one outside of Instagram can tell you for certain the exact number you're allowed to follow but there are those that have tested the system and came up with a few suggestions to avoid violating Instagram Follow Limit.
Sticking to these limits could save your account from getting banned and thus allow you to gradually build up your following on Instagram.
Scott Kleinberg, a lifestyle reporter for the Chicago Tribune tested the Instagram API in 2013 and found that you could follow and unfollow up to 160 People per hour, which was in the month of March (Outdated, pls see update).
Related – This Tool Will Grow Your Instagram Account While You Sleep
In a rather conflicting report, Peter Trappaso, a writer and social media Consultant in January of the same year stated that you can follow about 50 People on Instagram roughly every 5 minutes.
While I see so many people keep typing on search engines questions like:
"How many people can you follow on Instagram per day?",
"How many people can you follow on Instagram per hour?"
or, "Instagram follow limit per day",
the solution to avoiding going beyond Instagram Follow Limit is to set your own limits based on what has successfully worked for others and sticking to those.
So over the last two weeks, I tested both theories mentioned above and occasionally got certain features disabled but thankfully I never got a ban. I have since set my own Limits to which I would recommend to anyone looking to grow their following on Instagram.
To be on the safe side, it is best to allow a new account to 'age' naturally. Trying to follow 200 people within the same hour of opening an account on Instagram makes one come off spammy which is against Instagram's community guidelines.
I personally recommend that if your account is less than a week old, keep your following limit to a maximum of 40 every five minutes and once your account has aged a little (say a week or two for starters) you can scale it up a little to 60 followings in five minutes.
(Edit: these limits are outdated. See Update)
I'm continuously monitoring for any changes on one of my Instagram accounts and will keep this post updated should any occur.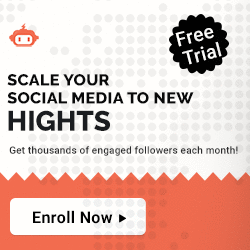 Update: 12/29/2015
I wrote this post a few weeks ago, and at the time I had grown my following to 500+ but I quit my journey prematurely because I didn't have much time to focus on Instagram. Maybe I lacked the motivation to continue. But that's changed.
I'm back now with new knowledge that I'm excited to share with you.
My plan for the next few months is to grow my following enough to be able to earn me a minimum of $100 a day. Well, I have it all figured but the most important part is to grow my following while staying under the radar of the Instagram follow limit.
How will I grow my following at this faster rate and avoid violating the follow limit, you ask?
Here are a few of my strategies in bullet points:
Add followers to my Instagram account from Famoid.
Post a minimum of 2 quality images each day and add a few 'likes' on them along with the regular likes from my real followers.
Pick a few popular profiles in my niche and follow their followers up to 500 a day.
When the ration between my followers and those that I'm following goes up to around 3:2, unfollow and bring down the ratio to something like 10:1.
Repeat the process until I reach 10K followers and then I'll start buying and exchanging shoutouts in order to grow my following even faster.
Here's why I intend to add 1500 followers at the initial stage: If you've tried to increase your following on Instagram you will notice that it's a lot easier and faster to do so if you already have a substantial amount of following.
People perceive these numbers to mean that your content is quality and popular.
When I think about what I know now and how incredibly profitable Instagram has been for some of my friends who started early, I almost want to punch a hole in the wall for all my free time I spent on hobbies I barely enjoy anymore. It could have been a whole different story today, but that's that.
The account I'm growing is (Link removed: Update coming soon) where I'll be sharing the latest trends in fashion.
If you have any question feel free to use the comments section below or add me on skype at diablo2562. I'll be happy to discuss my plans for monetizing this account and connecting with brands through FameBit (One of the best social media monetization networks).
FameBit accepts registration by accounts with 5000+ Following. You can join using your YouTube channel, Facebook page, Twitter, Instagram among others.
Quick Update: 01/05/2016
So my following has hit the 3000 followers mark. I'm now gaining a few followers organically without following any further (thanks to hashtags). I stopped adding likes about a week ago since my followers are liking the images naturally.
For the next 2 days, the plan is to unfollow at the rate of 60 in 5 minutes and a total of 400/day until I'm left with a little over 1000 that I'm following. After that, I will resume the 'following' process.
Instagram follow limit update 01/17/2016
Nothing much to update but I thought I'd write a line or two.
The account I'm growing is now a little over 4k in followings. This is definitely very slow and I attribute it to me using the web-based 3-day trial of Intagress.
I found that the rate at which it followed accounts was way too slow even though I set it to maximum speed. I do NOT recommend this program.
Some people asked me about the link on my Instagram profile. Well, that's an affiliate link to Admitad Affiliate Network. If your audience is mostly US-based PeerFly would be more suitable.
And if you're more interested in running CPA offers, OGads will do just fine for you. You can sign up and get your own affiliate link through which your audience can purchase products in your niche and earn you a commission.
They cater to almost every niche known except for the adult-related material.
update: 20/01/2016
Just to bring you up to speed. Everything was running smoothly since the last update until today when I made the decision to test the limits and followed more than 800.
Obviously, this idea should have been left in the gutter, and now I'm unable to access Instagram as I'm getting the error 'Your account has been disabled for violating our terms'. What's strange though, is that I'm able to access the account through my PC browser and even Crowdfire.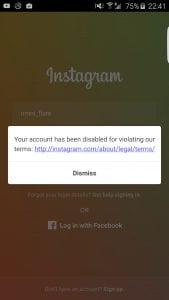 So I'm unsure if I should interpret this to mean the account is now gone and all the effort I put in growing it was all in futility or it's a mere temporary ban. Either way, I've undoubtedly learned so much in the process and I feel it was all worth it.
While I wait to see what happens I will be using my free time to start another 3 accounts in different niches.
I was granted permission by the owner to share this video I just stumbled upon. He clearly demonstrates that just about any niche can be profitable on Instagram and that you don't need to wait until you reach 100k to start cashing in on your Instagram account.
See you in the next update, hope it will be positive 😉
Update:26/1/2016
Instagram banned my device – Solution
Okay, it had been a few days since my last update and still, I was getting the same error: 'Your account has been disabled for violating our terms'. Like I mentioned above, I could still access my account through the browser but Instagram does not allow third-party programs to upload images.
So I was stuck there. I, however, managed to upload a few images using a different phone that isn't mine.
So I bit the bullet eventually and decided to restore my phone back to factory settings. This is a much safer option than rooting your Android or jailbreaking your iOS device to change id.
Thankfully I didn't lose any data or app as my phone automatically backs up data and apps' settings on Cloud so all it took was a few minutes and I had everything back on track.
I can now log in on Instagram's app without a hitch.
What I've learned from this experience is that Instagram can be very forgiving for accounts that have verified with their phone number. That is how I was able to push the limits to such extremes but eventually, IG had enough of my nuisance and kicked my phone to the curb ;-). Lesson learned.
Instagram account banned – Solution
So what if your account got completely banned/disabled?
Here's one last option for you to try:
First of all, DO NOT fill this help form provided by Instagram.
Fill this one (Link broken, see this post about recovering banned Instagram account) instead, and tell them your account has been hacked.
Follow the instructions as illustrated on the image below and allow for a few days for your account to (hopefully) be restored.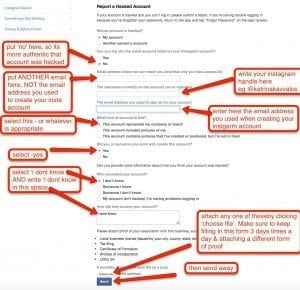 Props to Shazid for this tip.
Let us know if this helped.
Update 09/02/2016
Nothing much to report except that my Instagram page has been growing smoothly without a hitch.
I have a 2nd account in the fashion niche but this one is specific to a particular line of fashion, and although the initial monetization plan did not include promoting fashion as an affiliate, requests for dresses have become quite frequent lately and it will be interesting to see how things change once I gain more followers.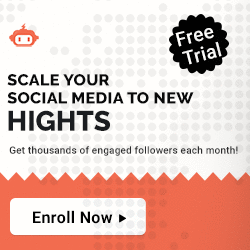 Instagram follow limit update 04/03/2016
I've been reading quite a bit about Instagram automation. Turns out this is how the big players in this game started out and made a kill with it until they reached a point where automation wasn't necessary anymore.
Some of the people I have been talking to are using FollowLiker while others Mass Planner. There seems to be a debate about which of the two is superior to the other but I made up my mind to go for Mass Planner. They're both really good in many ways and I hope to write a review of both in the coming days.
Just to mention what you're getting with Mass Planner Instagram Edition:
You can add all your Instagram accounts
Add all your photos one by one or in bulk and have your posts scheduled for weeks at the exact times you want
Have your Like, Comments, Follow, Follow Back and Unfollow activity on AutoPilot and have time to focus on other aspects of your business. Just to mention but a few.
So I'm getting Mass Planner Instagram Edition today and will be able to schedule posts in the coming days and set everything else to run on autopilot. With this edition, I can automate unlimited Instagram accounts and also grow my Pinterest, Twitter and G+ account all on autopilot.
I will also be able to schedule Facebook posts for the coming days/weeks.
If you're serious about growing your Instagram business, Mass Planner is offering a 5-day money-back trial period. You should check them out.
See you on the next Instagram Follow Limit update.
Read – This Tool Will Grow Your Instagram Account While You Sleep (Update!)
Instagram follow limit 2016 – mini update
It's been a month or so since my last update and I figured I'd update this post and let you guys know what I've been working on and the results so far. Mass Planner as a tool has made this journey a ton easier.
It could have been too slow owing to some changes in my college schedule and I probably could have postponed it for a later time when I'd had more time to continue. Luckily, all I have to do is to log in once or twice to check the stats and upload the day's image.
Also, my Twitter following went from around 2.3k to over 11k with me barely having to do anything.
PS: If you need a powerful VPS for cheap, reach me on Skype Diablo2562 and I'll connect you to a reliable provider I currently use.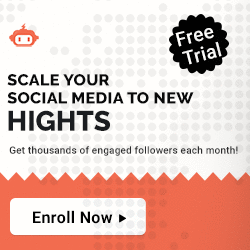 Instagram follow limit 2020 – quick update
Instagram recently shared a piece of big news with the users. At last, we know the exact follow limit of Instagram. For your information, any account on Instagram can follow up to 7500 people in total at a time. If you have reached the maximum follow limit. Then you will have to unfollow some old or inactive followers to get the chance of following more new active users.
Now let's come to the main point. So, what is the update on the follow limit in 2020? Unfortunately, it is still the same. Instagram hasn't disclosed that parameter publicly. However, we have some new information for you, nonetheless.
First of all, the follow limit on Instagram is not universal. Rather, it is relative to different accounts. That means the Instagram follow limit varies from account to account. Thus it is impossible to say an accurate number when it comes to daily or hourly follow limit on Instagram.
But one thing is clear that all of these depend on several things. And they are:
Are you active on your account or not?
What is the age of your Instagram Account?
How many followers do you have?
When you opened your Instagram Account?
Are you a famous person or a celebrity?
Similar to these, there are a few key aspects in which the follow limit of Instagram depends.
Another suggestion is to keep yourself away from spamming. If you do that and the algorithm of Instagram gets triggered, your account could get disabled permanently. So, make sure you are following and unfollowing in a steady manner. And, don't try to increase the follow rate of yours all of a sudden. Rather, try to increase it on a weekly basis.
We have seen reports of 1000 follows per day as well. However, this is very high even for an old account. In this type of situation, most of the time your account could get banned. Therefore please don't aim for that high. When it comes to Instagram limits, it is better to go as slow and steady as possible.
Now, according to many reports from many users, they estimate that 200 follows per day would be a great option. And for older accounts, you can go as high as 350 follows per day. Yes, there is news that some easily follow over 500 to 1000 in a day, but this is a bit risky if you don't have many followers and so forth.
On another note, the hourly follow limit is also dependent on the factors we have just described above. We have seen that following even 40 people each hour is safe for bigger accounts. However, if you are a new user and want to be on the safe side, you should keep it down under 20 follows/hourly.
And, day by day, you can increase the rate gradually. Plus, don't forget to be active on your Instagram account by commenting, liking, browsing, etc. That way, your daily and hourly follow limit will increase automatically as your account gets mature.
Follow Limits UPDATE 2020
Click here –> Instagram Limits for the update.
Other Instagram related services: